About
I am currently reworking my store for new products and will have the site back up soon. If your wanting to purchase products please go over to my Etsy Stores:
www.etsy.com/shop/KenziesCottage or www.etsy.com/shop/RoughElements
Thank you for visting my website!!
Welcome to Kenzie's Cottage ...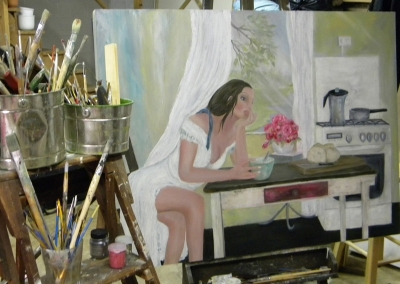 For the past fifteen years, I have been blessed to wake up and create works of art. My favorite medium to work with is oil. I love the sheen and how the paintings look in different lighting. Having my own shop allows me to be creative in many areas of art including landscape, impasto floral, figurative and cityscape.
I work as a professional artist with Atlanta Decorative Arts Center and with interior designers doing commission paintings for their clients. Doing custom paintings for clients, creating a piece that reflects their personality and style is something I really enjoy. If you like my artistic style and have an idea for a custom piece, please contact me and we can discuss creating a work of art just for you.
I have recently implemented my second love Rough Element Artisan Jewlery! My jewelry is a collection of natural gemstone jewelry . Each piece is a one of a kind piece that is metalsmithed and designed from natural rough gemstones and set in quality metals.
Visit my store for fine art, impasto or small oil paintings,artisan jewlery, home decor candles and more ...
~ Tammy Allman